Spent a great New York two weeks   running ourselves ragged, but managed to go First Class at a discount as is our mission.
First: standing at the Met Opera–yes, it can be done. With not a ticket to be had in the house, we stood for 2 1/2 hours behind a velvet bar in the orchestra for Rheingold.
(NYTimes) The bar was a little high for me but Rory liked it well enough to go again on Thursday for Siegfried, a five-hour opera. If you are not up for standing, get your tickets early enough to find seats at the back of the house. You will almost certainly get a better seat for the last act (about an hour and a half) when all but the most enthusiastic have left.
The next event was at the Mannes Eastman's production of Kurt Weill's Street Scene.
These tickets cost a mighty $10 each and the first class performers at  John Jay College were a treat (say Rory and friends.)
We had never seen any films at the Tribeca Film Festival and managed to pull ourselves together enough to see a terrific prize-winning entry, Blow the Man Down, a Coen-brothers-like morder/comedymovie that will certainly be out commercially.
(Variety) Unfortunately, this film cost $24/pp although many others were much less. Again, watch for these festivals and grab the early low-priced ticket packages.
We then moved on to a knockout revival of Burn This by Lanford Wilson, first staged in 1987, and showcasing the amazing Adam Driver in what will surely win a Tony for him (he is nominated).
(Driver and Keri Russel; thewrap.com)Our seats, just behind the price break at $30/ticket more), were in the fourth row of the balcony, cost $69 each and gave us perfect viewing and hearing. It was wonderful to see so many young folks at the theater.
Then, of course, on to our regular seats at the "Encores" series of High Button Shoes with Jerome Robbins' original choreography lovingly recreated.
(broadwayworld) We stopped in at the new Oklahoma, nervously anticipating ravages to the score and were delighted to find that the small, string group right on the huge center stage of the Circle in the Square Theater, kept amazingly close to the original orchestrations by Robert Russell Bennett, with a brand new "country" sound. The cast was appropriately diverse and including an Ado Annie who did wonders with her terrific voice and her swirling wheelchair.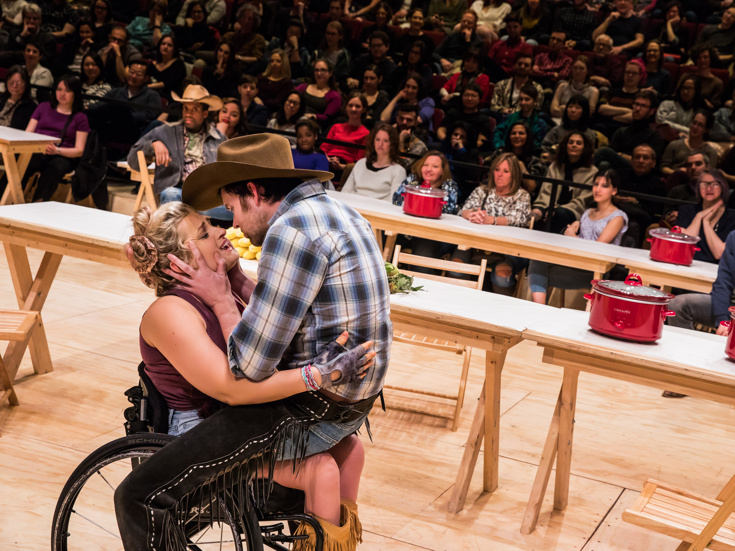 (Broadway.com)
Don't miss this, you will hear Rodgers and Hammerstein at their best if you keep an open mind to the new style. Tickets go down to $79.50/pp for row K which is just fine as there are only a few rows.
So, spring and summer offer lots of bargains. Search the papers and the internet for exciting events. New York is a perfect venue for the very best in theater, opera, film and don't forget the New York City Ballet, at a discount!
#metopera
#manneseastman
#burnthis
#oklahoma
#nycballet
#highbuttonshoes